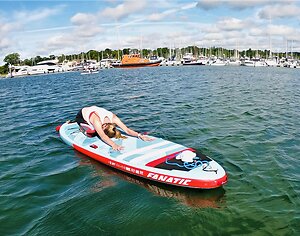 SUP Yoga Classes in Southampton starting Monday 5th June 2023!!!
Are you looking for something a little different to try? Can you imagine practising yoga on water, using a paddle board as your yoga mat? If you love the water and looking for a challenge to take yourself out of your comfort zone, Stand Up Paddle Yoga and Paddle Boarding could be just what you are looking for?!

Being at one with nature can really help to regulate reactions to emotions like frustration or excitement. For some it can be calming after something exciting or upsetting happens. Self-regulation helps us to focus on a task, practicing yoga helps to refocus attention on your inner wellbeing. Creating a sense of peace, and experiencing the present moment, can be so challenging with so many demands of life.

I hear from many students how different they feel after a class, gaining a new positive perspective, from being outside in the fresh air, having the freedom of the water to inspire and wake up those all important energy channels.

The calming affect of the water helps to soothe the soul and focus inwards, however this may not be true for everyone. Especially if an experience has occurred that has caused a fear of water. Something I have experience with, helping people to overcome is a fear of the water and falling in, scared of what is lurking beneath the water... yes our imagination can really run wild and I'm here to help!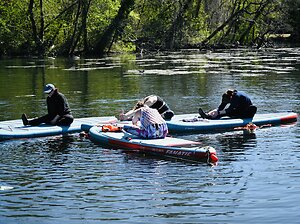 7 benefits of SUP yoga
. Refines technique on land.
. Strengthens new muscles.
. Relieves stress (fresh air, sounds of water & nature, gorgeous scenery)
. Improves breathing techniques.
. Increases flexibility.
. Drastically improves balance.
. Gets you outside.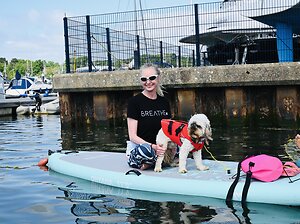 What if I've never done yoga or paddle boarding before?
Yes, I know it can feel a little overwhelming but you're excited about it and want to give it a go?!

You will be looked after by experienced yoga teachers and given some simple instructions for your practice. You can stay on your knees if you feel more comfortable until you build up your confidence.

1-1 sessions are available and classes are suitable for all ages and levels of experience. Beginners are always welcome, and the class includes a safety briefing, paddle and buoyancy aid.

Is this one of your goals for 2023? Then do drop me a line, I would love to answer any questions. We are all beginners at some point and facing fears can give us such a Thrill and sense of empowerment and motivation.
Feedback
"Had a wonderful time at paddle boarding yoga, instructors were very friendly and helpful, and mindful of us being beginners! Just a very kind and chilled out atmosphere, one instructor brought her dog on the paddle board, tbh I would have gone just for that he did so well ! Friendly people, had a lovely time. Want to go every week!"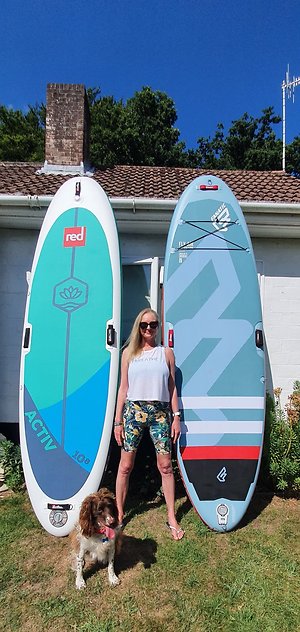 What's on Offer
Intro to SUP Yoga and SUP Yoga classes
Couples SUP Yoga
Puppy Yoga - yes my Cockapoo Booby will be joining sessions this summer!
Private 1-1 SUP Yoga sessions
SUP Mindfulness, Breathwork and Meditation sessions
SUP and SUP Yoga Therapy workshops and sessions
SUP Yoga teacher training
SUP Yoga Business Coaching, Mentoring and Business setup

Lets really look forward to getting out more on the water for 2023! The weather will warm up soon... ready for some outdoor fun.

Please do contact me for more information or visit Tambellini Yoga and Coaching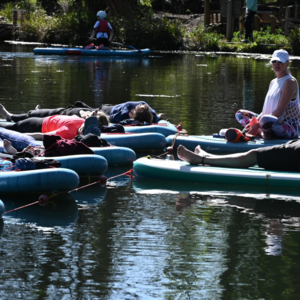 Where to find Us?
Wood Mill Activity Centre
Woodmill Lane
Southampton SO18 2JR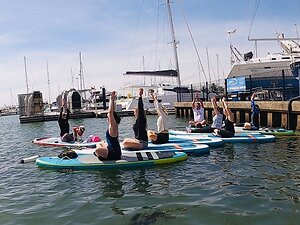 The Paddle Centre
Swanwick Shore Rd
Southampton SO31 7EF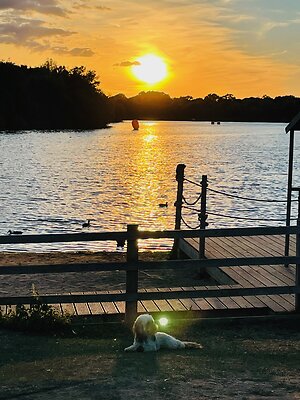 Horseshoe Lake Activity Centre
Mill Lane,
Sandhurst GU47 8JW